Ninfia wrote:I don't mean to derail you lucas, but I'm genuinely wondering why you think I'm mafia? What about my actions has made you think that? Considering the fact that I've been going after maf actively and my list (posted before t3t's) matched what he was saying more or less?

I've also been pretty open about my actions. I had a one off vig kill that was used up in minji's stunt. I announced before the phase ended it was gonna happen. The mafia-- Lulu?-- probably started with a gun and used it n0, then had to wait a certain amount of turns to make another one.
tbh Ninfia, literally the only thing I know about you is that you claimed to be a 1x vig. It's undeniable that your claim is true seeing what happened the other night with minji, but it could still go both ways. HOWEVER, due to recent developments, I'm very willing to replace your name with lulu's. When I posted my list, I named the 5 players I knew less about, and the reason why lulu wasn't on that list is because I had this strong conviction that lulu was the town stunner. Due to T3t's claims, which SOMEHOW are all falling into their rightful places, I'm thinking that I could have been wrong. If lulu isn't the town stunner, then we know even less about her than we know about you, so she gets bumped on my list and replaces you.
Current suspect list: alca, angel, Cure, Luxaria and lulu.
Cure wrote:I don't want to believe it could be true, but if my brother IS mafia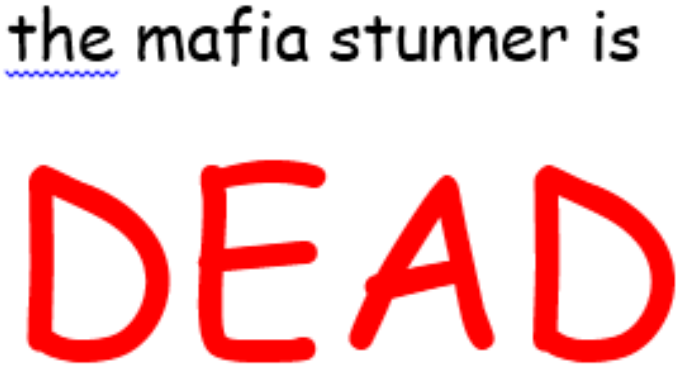 T3t is not mafia. T3t is the town stunner.
Cure wrote:MAFIA WORDS MAFIA WORDS MAFIA WORDS
srsly Raie, what's you theory for what happened to the NK?
"Mafia is trying to frame me" litterally doesn't cut it, because the mafia have no control over who the
town
stunner targets. Tbh, the fact that you KNEW that
T3TSUYA
was the town stunner only sounds like more incentive for YOU to send the nk, because of how you've, um, supported?? each other all game long, you would be more prone to feeling like T3t wouldn't target you as easily as he'd target, say, alca.